It's the perennial problem for bloggers: how to get traffic on your website.
To help you solve this problem, in this post you are going to learn three traffic boosting methods that every blogger should be using in 2018.
1) Use blogging and writing platforms to get more readers
With platforms like Medium and Tumblr, you can tap into readerships in the millions.
These platforms are built for people to share their ideas, thoughts and creations. And making your blog part of that can help you get more followers.
Big names like Tim Ferriss, Ryan Holiday, and even Natalie Portman have started using Medium to spread their message.
And companies are also joining with names like Netflix, Washington Post, Evernote, and Inc. to name just a few.
Now the big question is this:
How do you get people to read your content on these blogging platforms?
It's all well and good that you can add your content there. But how do you get people to actually consume it?
The answer (you may not like it):
You need followers.
On Medium you have claps and on Tumblr you have reblogging. These are the viral functions that will expose your content to more and more people.
The logic is simple: if someone claps or reblogs your content, more people are likely to see it.
Which is why blogging platforms are worth spending time on in the first place. They will help you reach new audiences and get traffic on your website.
But what happens if you have few, or even zero, followers?
Nothing.
As in no one will see your new posts.
Go ahead, create a new Medium or Tumblr account and see what happens if you post a story.
Of course nobody will see it. That much makes sense.
But that leaves us with catch-22:
You need followers for people to see your content, but to get followers you first have to get people to see and read your content (as that's usually how followers start following you — because they like what you publish).
And here's the biggie:
This contradiction is what breaks most bloggers before they ever experience any kind of success.
Why?
Because building a following, on any platform, is an exponential challenge. Unless you are already an established figure, creating a following is a difficult task.
Exponential growth looks something like this:
And that's also what your growth on platforms like Medium and Tumblr will look like. Most likely at least.
Which means that in the beginning, things are going to move slowly.
You are not going to get many fans, claps, reblogs, likes, w/e…
For a time it may not feel like it's worth the effort.
But that's just because you are in the early part of the exponential growth. The part where nothing significant happens.
The key is to get past this part of the growth. To get to the part where your results are going through the roof.
You just have to keep going even though the results are not showing up yet. They will come.
This is also why perseverance is the most important skill for bloggers.
You need to persevere through the initial slow progress. That's the key to succeeding on blogging and writing platforms where you don't have any followers yet.
Oh, and how do you get your very first followers? Those first few people that are going to get it all started?
If you already have followers from other sources, e.g., email and social media, you should use that.
But you should also do something else. You should participate in the communities that these blogging platforms are fostering.
Go read, clap, reblog, like and comment yourself. Connect with other writers and bloggers.
These connections may just lead to the first few followers that can start your exponential growth.
2) Social media (free + paid)
Social media has pretty much been a top traffic source since Facebook changed how we interact with websites (and with each other).
2018 is no different. Social media is still at the top.
But again, the amount of traffic you can get from social media largely depends on how many followers you have.
There are several strategies you can use to get your first followers.
On Twitter, the simplest method is to follow people related to your own niche. This straightforward approach has been around for years now because of a simple reason: it works.
Follow people that could be interested in your website and some of them will follow you back.
Next, you should incorporate social media into everything you do.
Each follower you gain will increase the traffic potential of your social media accounts. So it's worth the effort in the long run.
Add your Twitter handle to your signatures in emails, newsletters, forums, etc.
Mention it on your blog.
Put it on your download pages.
Tell new subscribers about it in your welcome emails.
… add it everywhere you can and soon your follower count will start increasing by itself.
These two strategies will help you grow your following steadily over time. But to speed up your results you should also consider paid advertising on social media.
Facebook's advertising platform is incredibly powerful. So powerful that it has sparked lots of controversies lately.
And here's the thing: there's no such thing as 'free traffic'.
You either pay for it with your time or with your wallet. And your time may very well be a more limited resource than your money.
So if you have a budget for ads, this can improve your social media efforts a lot.
Just take a look at these two promoted posts: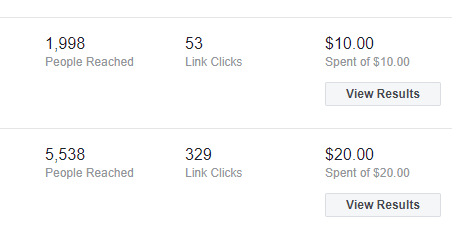 That's less than 8 cents per link click on average.
You don't need a huge budget to get started with paid advertising anymore.
And if you want to treat your website like a serious business, you should consider investing in it (or at least reinvesting some of your profits).
3) Strategic blog outreach
Blog outreach means (as the name suggests) reaching out to other bloggers and websites in order to get traffic.
That much is simple.
Other websites have traffic and it would be nice if they would send some your way.
Of course, getting them to do this is not easy. Hence strategic blog outreach.
You need a strategy that will convince website owners to send some of their traffic (and links) your way.
Here are my 3 favorite outreach strategies:
A top list post
Create a list post about a specific topic and include website owners in this list.
An example could be The 10 Best Twitter Tips This Month.
You already have a headline for the post right there.
And now it's just about researching other blogs, tweets, YouTube videos, etc., to find the 10 best tips.
Write the list post (which is easy as you'll more or less just have to write an introduction, list the tips, and give attribution.)
And then the final piece of the puzzle: reach out to the owners of the content you have used.
If you do this correctly (simply follow the steps laid out above), you are very likely to receive several shares and mentions of your post.
One great example of this is Inspire to Thrive. Lisa has been generous enough to create a dedicated page with mentions of her blog.
Not only are these websites receiving traffic (as I'm sure she has also shared their posts with her followers), but they are also rewarded with a permanent backlink.
Go deep with one outreach
The list post works wonders with smaller to medium sized blogs and websites as they are thankful for your attention and promotion.
Bigger websites are different as they are often the target of a lot of outreach.
Most of it spam.
But that does not mean that you can't do outreach for bigger targets. You may just have to work a bit harder.
Here are some of the strategies you can apply:
Do a case study – Make an in-depth study of their website and share it with your followers.
Interview the person – Can be text, audio or video. You can be quite sure they'll share the interview, but the harder challenge may be to land it first.
Review products – Product vendors love to share positive reviews of their products. But make sure to be honest in your review if you want to be respected by your followers. You don't want to lose your integrity for a tweet or a backlink.
Guest post
Guest posting is still one of my favorite outreach methods as it is a straightforward method that produces results.
You bring content to a blogger and in turn you get exposed to their audience.
The downside to guest posting is that it is a time-consuming strategy. The upside is that the more work you put into the strategy, the more traffic you are going to get.
There's no guessing or hoping for results with this method.
It's just about cranking out great content and connecting with other bloggers to share it, and another great way to get traffic on your website.
Final thoughts
Whatever strategy you use, it's important that you give it some time. Good things take time.
And once you have something that works, create a traffic system to apply your strategy over and over for improved results.
That's how you really ramp up your traffic numbers.
These were 3 traffic strategies I'm using in 2018.
Your Turn
Do you have any tips as to how to get traffic on your website ? Let me know in the comments below.
Guest Author:
Mathias Rin
Mathias Rin is a blogger at thejourneyof.me, an online
adventure in traffic, conversion and personal growth.
Twitter: @ProfitChampion
FREE PDF: 'How to Write Great Headlines That Get More Blog Traffic'
Enter Email For Instant Access!